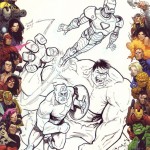 Here is one of those blank comic book covers, that you are suppose to wait in line for 3 hours to get your favorite artist to draw something really cool on (Wonder Woman tying up Black Canary….you know you were thinking about it).
Well, in this case my brother said, "Hey, why don't you draw something on here for me?". To which I replied, "Alright. Hulk, Cap and Iron Man good for you? Good!"
I did a few thumb nail sketches first to try and figure out a cool, action-pose-filled layout and then I sketched (with the non-repo blue pencil) it out on the cover. The surface is pretty good for drawing (makes sense right? But apparently it took the industry a few tries to get that right). I then inked it with tech pens (.02 and .05… I think). And then…Violin! a custom comic book cover.
Commissions are available upon request. Unless you're my brother… you already got one, so move on!
Thank you!